Hyundai Santa Fe Owners Manual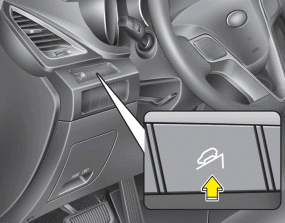 The Downhill Brake Control (DBC) assists the driver when descending a steep hill without the driver depressing the brake pedal. It slows the vehicle to under approximately 6.3 mph (10 km/h) and lets the driver concentrate on steering the vehicle.
DBC defaults to the OFF position whenever the ignition is turned on.
The DBC can be turned on or off by pushing the button.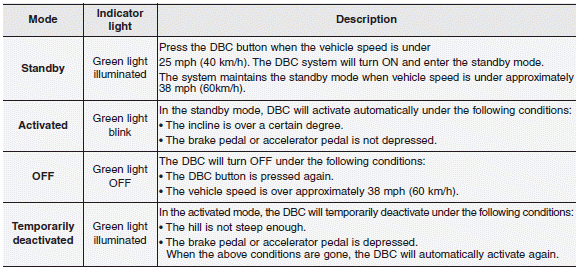 WARNING
If the DBC yellow indicator light illuminates, the system has overheated or there is an operational problem. The DBC will not activate. If the DBC yellow indicator light illuminates even though the DBC system has cooled, have the system checked by an authorized HYUNDAI dealer.
✽ NOTICE
The DBC does not turn ON in the P (Park) position.
The DBC may not activate if the ESC (or BAS) is activated.
Noise or vibration may occur from the brakes when the DBC is activated.
The rear stop light comes on when the DBC is activated.
Always turn OFF the DBC on normal roads. The DBC might activate from the standby mode during abrupt cornering or driving over speed bumps.
WARNING
Unnecessary or unwanted DBC activation may result in an accident.
On a very steep hill even though the brake pedal or accelerator pedal is depressed the DBC may not deactivate.










© 2023 www.hyundaisantafemanual.com. All Rights Reserved.