Hyundai Santa Fe Owners Manual
ALL Wheel Drive (AWD) transfer mode selection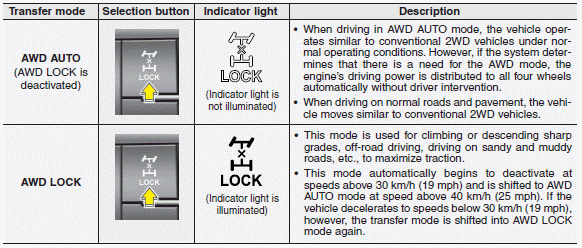 ✽ NOTICE
When driving on normal roads, deactivate the AWD LOCK mode by pushing the AWD LOCK button (the indicator light goes off). Driving on normal roads with AWD LOCK mode(especially, when cornering) may cause mechanical noise or vibration. The noise and vibration will disappear when the AWD LOCK mode is deactivated. Some parts of the power train may be damaged by prolonged driving with the noise and vibration.
When the AWD LOCK mode is deactivated, a shock may be felt as the drive power is delivered entirely to the front wheels. This shock is not a mechanical failure.










© 2023 www.hyundaisantafemanual.com. All Rights Reserved.